Snoring in Franklin Park, IL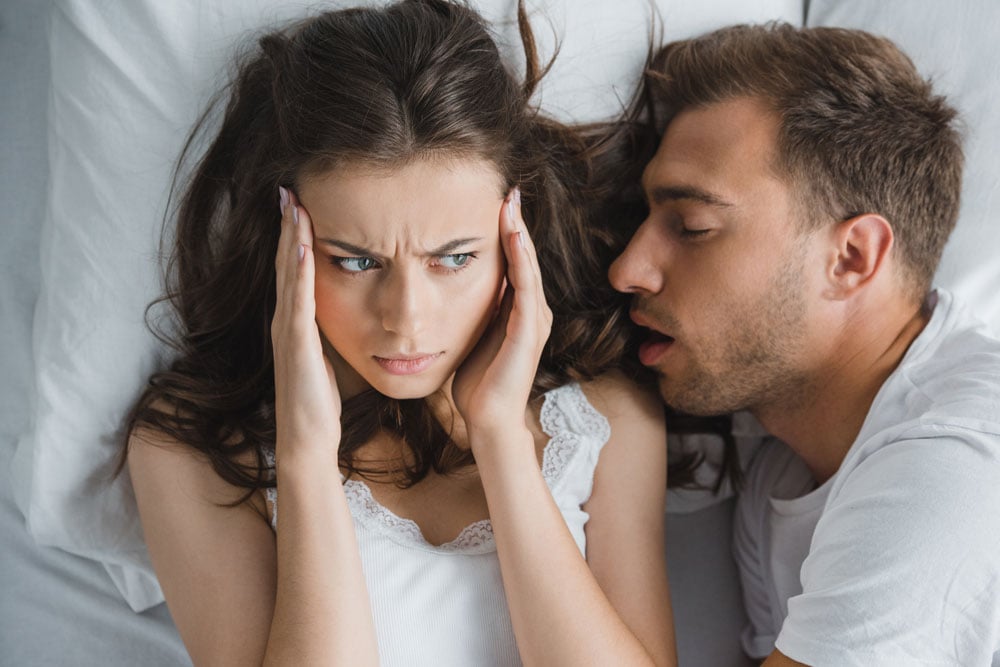 Just about everyone snores occasionally, but if snoring happens frequently it can affect the quantity and quality of your sleep and that of your family members and roommates. Snoring can lead to poor sleep and daytime fatigue, irritability, and increased health problems. If your snoring keeps your partner awake, it can also create major relationship problems. Thankfully, sleeping in separate bedrooms isn't the only remedy for snoring. There are many other effective solutions available.
Is It Just Snoring or Sleep Apnea?
Snoring in Franklin Park, IL could indicate sleep apnea, a potentially life-threatening condition that requires medical attention. Normal snoring doesn't interfere with the quality of your sleep as much as sleep apnea, so if you're suffering from extreme fatigue and sleepiness during the day, your problem may be more than just snoring.
Not all snoring is the same. Everyone snores for different reasons. When you get to the bottom of why you snore, then you can find the right solutions to a quieter, deeper sleep.
People who snore often have too much throat and nasal tissue, or "floppy" tissue that is more prone to vibrate. The position of your tongue can also get in the way of smooth breathing. Evaluating how and when you snore will help you pinpoint whether the cause of your snoring is within your control or not. The good news is that no matter how and when you snore, there are solutions to getting you snoring under control.
Common Causes of Snoring
Age. As you reach middle age and beyond, your throat becomes narrower, and the muscle tone in your throat decreases.
The way you're built. Men have narrower air passages than women and are more likely to snore. A narrow throat, a cleft palate, enlarged adenoids, and other physical attributes that contribute to snoring are often hereditary.
Nasal and sinus problems. Blocked airways make inhalation difficult and create a vacuum in the throat, leading to snoring.
Being overweight or out of shape. Fatty tissue and poor muscle tone contribute to snoring.
Alcohol, smoking, and medications. Alcohol intake, smoking, and certain medications can increase muscle relaxation leading to more snoring.
Sleep posture. Sleeping flat on your back causes the flesh of your throat to relax and block the airway.
Don't Let Snoring Damage Your Relationship
Is snoring causing a rift in your relationship? No matter how much you love each other, the loss of sleep from frequent snoring can strain a relationship as well as put your partner's health at risk.
When snoring is a problem, relationship tension can grow in the following ways:
Sleeping alone. If you or your partner snores, one of the easiest solutions is for you to sleep apart in different rooms. This often results in a lack of needed physical intimacy, straining the relationship. And if you're the one snoring, you might feel lonely, isolated, and frustrated about something you feel you have no control over.
Snoring spats. It's common to be irritable when sleep loss is an issue, but try reining in your frustration. Remember, you want to attack the snoring problem—not your sleep partner.
Partner resentment. When a non-snorer feels he or she has done everything possible to sleep through the night (earplugs, noise machines, etc.) but his or her partner does nothing to combat his or her snoring, it can lead to resentment. Working as a team to find a snoring cure can prevent future fights.
Lifestyle Changes to Stop Snoring
Lose weight. Losing even a little bit of weight can reduce fatty tissue in the back of the throat and decrease or even stop snoring.
Exercise. It can also help to stop snoring. Working out to tone your arms, legs, and abs, for example, also leads to toning the muscles in your throat, which in turn can lead to less snoring.
Quit smoking. If you smoke, your chances of snoring are high. Smoking causes airways to be blocked by irritating the membranes in the nose and throat.
Avoid alcohol and caffeine. It can take up to 18 hours for your body to remove caffeine from your system.
Establish regular sleep patterns. Create a bedtime ritual with your partner and stick to it. Hitting the sack routinely can help you sleep better and often minimize snoring.
Medical Cures for Snoring
If your efforts to stop snoring do not help, consult your physician or an otolaryngologist (an ear, nose, and throat doctor, otherwise known as an ENT). If you choose to try a dental appliance for your snoring, you will need to see a dentist specializing in these devices.
Continuous Positive Airway Pressure (CPAP). To keep your airway open during sleep, a machine at your bedside blows pressurized air into a mask that you wear over your nose or face.
Dental appliances, oral devices, and lower jaw-positioners. Often resemble an athlete's mouthguard. They help open your airway by bringing your lower jaw or your tongue forward during sleep.
Traditional surgery. Such as Uvulopalatopharyngoplasty (UPPP), Thermal Ablation Palatoplasty (TAP), tonsillectomy, and adenoidectomy, increase the size of your airway by surgically removing tissues or correcting abnormalities. The Pillar procedure is also an effective surgery in which small plastic implants are inserted into the soft palate. Scar tissue grows around the implants, stiffening the soft palate, which stops vibrations that cause snoring.
New developments. Laser-assisted uvulopalatoplasty (LAUP) and somnoplasty remove parts of the soft palate to reduce snoring using lasers or radiofrequency signals. These newer remedies may require further study.
When to See a Doctor About Snoring
Snoring can sometimes be a warning sign of a serious problem. A physician should evaluate your snoring for any underlying medical conditions, other sleeping disorders such as sleep apnea, or any sleep-related breathing problems. Call your dentist in Franklin Park, IL if you or your sleep partner have noticed any of the following red flags:
You snore loudly and heavily and are tired during the day.
You stop breathing, gasp, or choke during sleep.
You fall asleep at inappropriate times, such as during a conversation or a meal.
To rule out a more serious problem, a physician may refer you to a sleep specialist for a home-based sleep test using a portable monitor or request you stay overnight at a sleep clinic. If these sleep studies conclude that the snoring is not related to any sleeping or breathing disorders, you can discuss different treatment options to stop the snoring.