Cosmetic Dentistry in Franklin Park, IL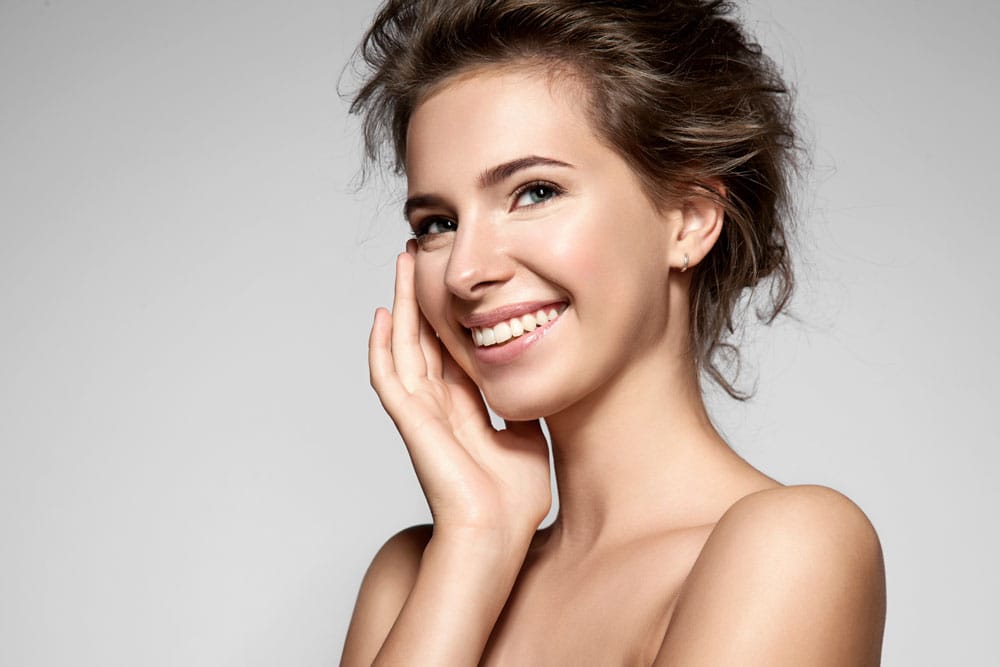 Get a Smile Makeover
Teeth whitening, porcelain veneers, orthodontics, beauty injections… so many options exist to help you achieve the smile of your dreams. As a cosmetic dental practice, our team can help you determine which treatments will give you the smile you've always wanted. Your doctor will examine your oral health, discuss your vision of a gorgeous smile, and study the dynamics of your face, mouth, and skin tone.
Your doctor can then plan a smile makeover to suit your personality and unique style. They will explain your options and show you (with a computer image, before-and-after photos, or a wax model) the potential results. Your input will help us determine how to give you the smile you want. Our friendly and experienced team at Mannheim Dental can help you with creative scheduling and financing options. We believe that everyone deserves a sensational smile, and we'll work with you to make sure you get it!
Whitening removes natural stains and discolorations on teeth for a brighter, healthier smile. There are many different whitening options available including in-office laser treatments and custom-fitted whitening trays for use at home. In-office whitening treatments are superior to over-the-counter methods because your doctors are qualified to administer higher concentrations of hydrogen peroxide for more efficient whitening tailored to your specific situation.
Your doctors can also make you custom-made whitening trays that fit over your teeth. The trays can be filled with a special gel solution to gradually reduce the appearance of stains and discoloration on your teeth. With this at-home kit, you control how often you use the product and how white you want your teeth.
Veneers are thin porcelain shells that are used to cover chipped, stained or misaligned teeth. The thin layers of the veneer material adhere to natural tooth enamel to create a strong, long-lasting bond. Veneers work best for people who wish to correct minor imperfections in their smiles.
The procedure for attaching veneers to the exterior of the teeth is non-invasive. The results are immediately visible. Once the veneers are adhered to your teeth, they will be able to perform all the teeth's natural functions without any dietary restrictions or long recovery periods. Since veneers can last for many years, there is no need for constant replacement and maintenance, other than normal oral hygiene and dental care. Porcelain veneers can help you achieve the bright, healthy smile that you've always wanted!
Crooked teeth are more than just a hassle. They can make you feel embarrassed to fully smile. They can make eating difficult. They can even affect how you speak.
Whereas traditional braces are typically considered first, the social consequences of adult braces can put some people off. Braces may not be an appealing solution for those seeking to impress a date or potential employer. When braces aren't an option, Invisalign® can help. Invisalign® is the virtually invisible and hygienic alternative to braces that lets you keep smiling during your treatment. Invisalign® uses a series of custom-made, clear, removable aligners that gradually move teeth toward the smile you've always wanted. Invisalign® is so discreet; most people won't even notice you're wearing them.
BOTOX® & Dermal Fillers
Lines and creases in the face tell a story that is not necessarily accurate about you. Our faces change over time, and they may be communicating feelings like being anxious, tired, or unfriendly without us even knowing it. Many of our patients worry that not only are their lines, creases, or scars making them look older or as if they have less vitality, but also how it may affect them in communicating professionally and personally.
Your doctor can use a combination of techniques and care to help minimize the appearance of fine lines and wrinkles, bringing back a refreshed, natural look. Depending upon the treatments used, often patients see results immediately or within a week. Our goal is to help you look more youthful and exceptionally natural — with minimal to no downtime. We will work with you to determine what products or combinations will help you best achieve your aesthetic goals.
What are BOTOX® Injections?
Botulinum toxin injections are a temporary solution for the treatment and prevention of wrinkles. This procedure is the most extensively studied aesthetic treatment and the #1 selling aesthetic treatment in the world.
How Does It Work?
Your doctor will administer tiny injections of BOTOX® directly into the muscles that cause moderate to severe lines and wrinkles. Discomfort is very minimal and brief. Injecting BOTOX® into the muscles that cause wrinkles, temporarily reduces the activity of those muscles. The result is a reduction in the appearance of lines and wrinkles. The entire treatment takes approximately 10 minutes.
How long will results last?
You may begin to notice results within 24 to 48 hours with results lasting up to 4 months. Botulinum toxin injections are often used in conjunction with dermal fillers to further enhance results.
What are Dermal Fillers?
As people age, the dermal layer of the skin becomes thinner. The loss of elasticity and fullness is manifested in wrinkles. Dermal fillers add volume to depleted areas to restore your face to a more natural youthful appearance. Dermal fillers are smooth injectable gels made from naturally occurring hyaluronic acid.
When do I see results?
You will see results immediately after the dermal filler treatment. Results can last up to a year. Any form of facial contouring with dermal fillers is performed as a non-surgical, minimally invasive out-patient procedure in your doctor's office.
How long will dermal fillers last?
In facial applications, dermal fillers will provide a correction that lasts around one to two years depending on the type of filler. Individual results may vary, affected by age, metabolism, skin type, lifestyle and muscle activity.